Manage Your Vann's Card Online!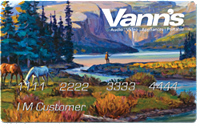 Managing your Vann's card online is easy and secure.
Access your account anytime, anywhere. Make same day payments safely and securely. All information you provide is encrypted to ensure your privacy and security. You can even sign up for paperless billing or see your recent transactions!
To start managing your account online today, just Click Here.
By clicking on the link above you will be leaving the Vanns.com website. Vann's provides links to other Internet sites as a service to its users, and is not responsible for the availability or content of these external sites. Vann's, its employees, and contractors do not endorse, warrant, or guarantee the products, services, or information described or offered at these other Internet sites.
Prefer to speak with someone on the phone?
If you would prefer to speak with someone on the phone regarding your Vann's Card you should have a phone number on the back of your card that you can dial. If you don't have your card with you or haven't received it yet, you can also call 1-866-396-8254, Monday - Friday: 9am - 7pm Eastern Time. You will need to have your account number ready for the agents answering your call. If you do not have your account number, you will need to provide your social security number.
Please be aware that when you call the above phone number you will be speaking with representatives of GE Capital.